Find Deals on a Steel Storage Container
If you are looking for an affordable and safe way to store your things either on your own property or somewhere else, then a steel storage container may be exactly what you need. CargoStorageContainer.com is the Nation's top source for steel storage container rentals, and with a large network of suppliers you can take advantage of the lowest prices on steel containers in your area.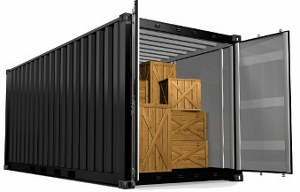 Advantages of Steel Containers
Here are some of the advantages to steel storage container rentals, sales and leases:

Versatility - you can order units with pre-installed racks for record storage or you can even use it as a storage/office combo unit.
On-site and off-site storage - you have the choice of keeping your things on your own property (which is the cheapest and most convenient), or you can load it up and store it in a storage facility or warehouse.
Safety - containers come with advanced locks which are nearly impossible to break into. Even if you plan on keeping your steel container in an unsupervised, easily accessible location, your things will still be secure.
Low Cost - you can buy used steel containers for around $1,000, new ones from around $2,000, and you can find steel storage container rentals for under $100 a month.
Durability - containers are made with high strength, long-lasting steel and they are coated with waterproof paint, which ensures that they will last a long time no matter where they are kept.