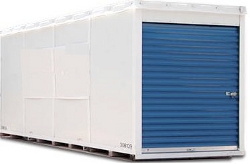 Portable Storage Units
If you are looking for prices on portable storage units, then you have come to the right place. Cargo Storage Container partners with leading portable storage companies in the United States, making it easier for customers to connect to and get prices from the top local companies in their area. Portable storage units are becoming more and more popular and many people are choosing them over storage facilities because mobile storage units offer more convenience, flexibility and lower monthly rates. Most companies offer portable storage units in two sizes 12 ft. and 16 ft., if you are looking for larger units you then you probably want a storage container.
Portable Storage Unit Rentals and Leases
When it comes to portable storage units customers can choose to either keep their container on-location or off-location. There are big differences between the two types, and prices on portable storage units can vary greatly between the two.
On-site Storage - the mobile storage company delivers the unit to your home, business, construction site, or wherever else you need it and it stays there for the duration of your contract. You may be able to move your unit depending on your contract, or you can have your provider do it for you for a fee. Keeping a portable storage unit on-location allows you to have 24/7 access to your things, and it has the cheapest rates.
Warehouse Storage - your unit will be dropped off and once you are finished loading it you call them and they will take it back to their warehouse. This is slightly more expensive than on-site storage, but if you don't need to access it often, and you don't have any extra space for a unit, then this is the right option for you.
Steel Storage Units - Originally designed to meet international shipping standards, 14 gauge steel storage units offer the most secure form of storage and last for decades. Steel storage units have been tested in the harshest weather environments known to man and have proven to keep the weather from damaging stored property. Sturdy design and rubber gaskets keep your container wind and water tight (WWT) and pest free.
Construction Storage Units - For storage on a construction site your units need to be both mobile and highly secure. When renting a storage unit for construction sites you should prioritize security first, reliability of the provider second, and price last. It may seem counterintuitive but when you are storing construction equipment worth thousands of dollars and equipment delivery delays can ruin your schedule, saving a few dollars should not be your top concern.

Many companies also offer affordable moving services as well. They basically deliver the container, you load it and they pick it up and ship it to a facility in the city you are moving to. Once you get settled into your new home you can call them and they will deliver it to your house. This is a great way to save money on moving if you only need to ship a small amount of things.